Featured:
Congratulations to Jaki Shelton Green, awarded an Academy of American Poets Laureate Fellowship, and the first African-American to be appointed as North Carolina Poet Laureate
Latest News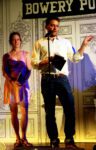 Prize-Winning Poets
-
Bowery Poetry Club - Adam Scheffler and Tina Kelley participate in a flow reading. We sponsor readings at diverse venues to bring our writers to new communities. On a New…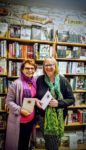 Wishbone Moon Launch
-
Ireland - Editor Roberta Beary and contributor Mary White at the launch of Wishbone Moon, an anthology of women's haiku, in Westport, Ireland at the Westival Arts Festival.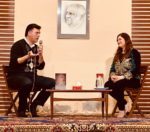 Ghazal Cosmopolitan Launch
-
Pakistan - At the Pakistani launch of Shadab Zeest Hashmi's Ghazal Cosmopolitan.  After her reading she engaged in a conversation with Ali Madeeh Hashmi, Faiz Ahmed Faiz's grandson and biographer.