Featured:
Speaking with the Universe – Li-Young Lee weaving his poetry with the sitar stylings of David Whetstone in World Premiere performances
Jacar Press produced events at the Durham Arts Council, Greensboro College and East Carolina University.
---
Congratulations to Jaki Shelton Green, awarded an Academy of American Poets Laureate Fellowship, and the first African-American to be appointed as North Carolina Poet Laureate
Latest News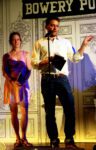 Prize-Winning Poets
-
Bowery Poetry Club - Adam Scheffler and Tina Kelley participate in a flow reading. We sponsor readings at diverse venues to bring our writers to new communities. On a New…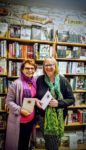 Wishbone Moon Launch
-
Ireland - Editor Roberta Beary and contributor Mary White at the launch of Wishbone Moon, an anthology of women's haiku, in Westport, Ireland at the Westival Arts Festival.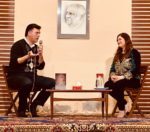 Ghazal Cosmopolitan Launch
-
Pakistan - At the Pakistani launch of Shadab Zeest Hashmi's Ghazal Cosmopolitan.  After her reading she engaged in a conversation with Ali Madeeh Hashmi, Faiz Ahmed Faiz's grandson and biographer.